Baby Shower Dessert Idea – Cheesecake Stuffed Strawberries
Looking for something sweet that also has incredible "table-appeal" for your baby shower? Look no further!
We have made these Cheesecake Stuffed Strawberries so many times at parties, and they are literally a show-stopper.
You don't even have to throw a baby shower arty to serve these….I imagine they'd be welcomed just about anytime! Another great party food, these can be made ahead of time. I did all the steps, even the sprinkling of graham cracker crumbs, twenty-four hours ahead of time and they suffered no ill consequences. Just be sure to wrap them well (I covered my plate with plastic wrap).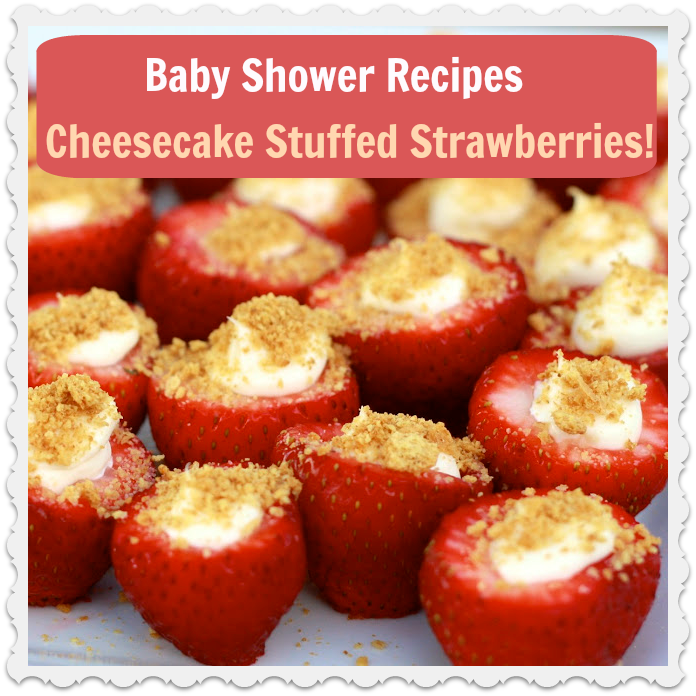 The best part about this recipe is how simple it is. Check out the recipe below:
Ingredients:
1 lb large strawberries
8 oz. cream cheese, softened (can use 1/3 less fat)
3-4 tbsp powdered sugar (4 tbsp for a sweeter filling)
1 tsp vanilla extract
Graham cracker crumbs
Directions:




1. Rinse strawberries and cut around the top of the strawberry. Remove the top and clean out with a paring knife, if necessary (some may already be hollow inside). Prep all strawberries and set aside.
2. In a mixing bowl, beat cream cheese, powdered sugar, and vanilla until creamy. Add cream cheese mix to a piping bag or ziploc with the corner snipped off. Fill strawberries with cheesecake mixture. Once strawberries are filled, dip the top in graham cracker crumbs. If not serving immediately, refrigerate until serving.
Let us know what you think of this recipe in the comment section below 🙂
More Articles Just Like This
About The Author