Parisian Inspired Nursery Design
Parisian inspired baby room designs are very popular this year. The nursery room featured below is very modern design, yet still feels warm and safe. The strong mahogany crib ads focus and dimension to the room, while that unique shelf ads so much character.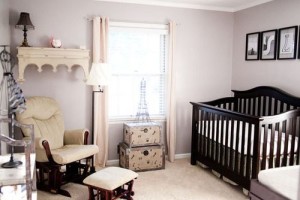 Aside from the colour of the room and how well the design flows, the quality of the materials your are purchasing matters. For example, is your the crib mattress "Green Guard" certified? Or is it made from flame retardant chemicals? These are a few things to consider when choosing the furniture and decor that your baby will spend so many precious years on. You can buy Green Guard certified furniture at Baby In Gear, located in Aurora Ontario (Canada). It is a beautiful store and the products are fantastic! I was really impressed by their knowledge of the market and care for quality. In fact, they even carry bpa-free, pthalate-free and many more natural and safe products for your baby! If you aren't located in the area, have no fear. Everything can be purchased on their online e-commerce/online store here.
More Articles Just Like This