Nursery Ideas For Above Changing Table
It can sometimes be hard to think of what on earth to put above a nursery change-table, but don't fret – we got you covered 😉 We found a great way to add dimension to your baby's room and also looks for both a baby boy or girl room (unisex).
Who says you have to put one GIANT framed picture above the change table? What's really trendy right now and super chic (added bonus!) is putting a bunch of frames/ mirrors of different sizes above the change table. It adds SO much character to a room and changes the centre of focus in any baby room (normally the center of focus is just around the crib – this helps change things up). Also, having many small frames the room LESS crowded and surprisingly feel more spacious and delicate (like your precious baby).
Below you will find a design we just love. The blend of the gold frames, soft pink accents, beige walls and crisp white furniture goes together beautifully!~ love love love. Also note the frames above the change table can be done in a variety of colours and are unisex. Please also note that putting many picture frames together (like a collage)- all on top of one another – is not the idea here. Each piece should have at least three inches from the next.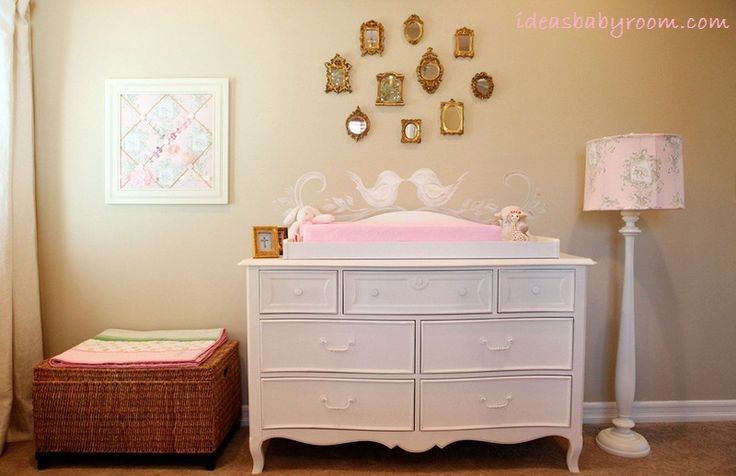 More Articles Just Like This